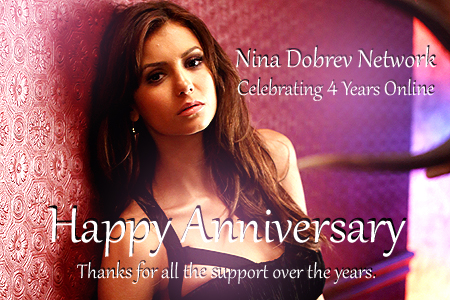 Nina Dobrev Network has reached it's 4th Year On the Web, I opened in January of 2010. I have taking so much time over the years and dedicated it into this site. I have had a huge amount of support over the years as well.
All you amazing visitors who kept coming back for the latest on the lovely, beautiful and talented Nina Dobrev. I want to say thank you to every single visitor who has ever came to NDN because without you this site wouldn't of kept going. Making this site literally Your Number One Stop for all things Nina is what kept me going.
I can't wait to see what 2014 has to bring to Nina's career as an Actress, she has already blown us away in so many ways with her talent, now to see what's to come is going to be an amazing ride for all of us Nina Fans.
We have a stunning New Design to Celebrate our 4th Year Online, it's done by the lovely & talented Night & Day Design who has been designing for NDN since 2010 when we opened our doors. Thank You Tathy for the amazing designs.
Happy 4th Year Anniversary to all my Visitors, here is to many more years to come. I love you all and I wish you a very HAPPY NEW YEAR. 2014 is going to be full of epicness.