Nina Dobrev already has the strong box office performance of The Return of Xander Cage and her promotional efforts alongside Vin Diesel to show in 2017. That would already be considered a successful 2017, although that is just the beginning. Nina had a guest starring role in an episode of one of her favourite television comedy series Workaholics and a triumphant return as Elena Gilbert and Katherine Pierce for the final ever episode of The Vampire Diaries which both aired in March 2017. Sci-fi horror drama Flatliners is set for release on September 29th 2017; starring alongside Ellen Page (X-Men franchise, Inception and Beyond: Two Souls), Diego Luna (Star Wars: Rogue One, Elysium and Contraband), James Norton (War & Peace, Grantchester and Dragon Age: Inquisition) and Kiersey Clemons (Justice League, Flashpoint and Bad Neighbours 2) and produced by Michael Douglas (Ant-Man, Wall Street and Basic Instinct). Comedy drama Crash Pad is finally set for a cinema release on October 27th 2017 with Nina starring alongside Thomas Haden Church (Sideways, Spider-Man 3 and Easy A), Christina Applegate (Married with Children and Anchorman franchise) and Domhnall Gleeson (Harry Potter and the Deathly Hallows: Parts 1 and 2, The Revenant and Star Wars: The Force Awakens and The Last Jedi).

2018 is already starting to look promising with drama film Departures (formerly known as Arrivals) in which Nina will star alongside Maisie Williams (Game of Thrones, Mary Shelley and X-Men: The New Mutants), Asa Butterfield (The Space Between Us, Son of Rambow and Ender's Game) and Peyton List (Valley Girl, Bunk'd and Jessie). Two films that were recently confirmed for 2018 include the thriller Lucky Day starring Michael Madsen (Kill Bill, Reservoir Dogs and Dishonored), Luke Bracey (Hacksaw Ridge, Point Break and G.I. Joe: Retaliation) and Crispin Glover (Back to the Future and Alice in Wonderland), while comedy film Dog Days also stars Finn Wolfhard (Stranger Things and It) and is directed by Ken Morino (Dawson's Creek and Veronica Mars). Around the scheduling of filming Departures, Lucky Day and Dog Days as well as promoting Flatliners, Crash Pad and films scheduled for release in 2018; what else could Nina's future projects include?
The Return of Xander Cage sequel


Nina has already mentioned a number of times during interviews and on her social media channels that she hopes there will be a sequel to The Return of Xander Cage with her character Becky Clearidge having more of an action role. Meanwhile, Vin Diesel has showed his appreciation for Nina on social media, "Nina Dobrev has traveled the world promoting xXx The Return of Xander. She is so good in the movie, she killed it on this Global Domination tour… but the best thing about her is her loving spirit. You can't help but love her. Thank you Nina for being a Baller on and off screen. Looking forward to the next one." The last sentence of that quote hints at there being another Xander Cage film or Vin Diesel and Nina Dobrev collaborating in at least one more film. The Return of Xander Cage director D.J. Caruso has been positively vocal on social media, essentially confirming The Return of Xander Cage sequel to even begin filming as early as January or February 2018 with all the main cast returning for the sequel including Nina.
The Fast and the Furious 9 and 10
Another possible venture for Vin Diesel and Nina Dobrev to collaborate on would be The Fast and the Furious 9 and 10. There is certainly scope for another female character to be added in The Fast and the Furious 9 and 10 when you consider that Gal Gadot's Gisele, Gina Carano's Riley and Ronda Rousey's Kara are all no longer part of the cast. The Fast and the Furious sequels always look to introduce known actors and actresses performing as new characters such as Fast Five bringing Dwayne "The Rock" Johnson to the series, Fast and Furious 7 introduced Jason Statham and Kurt Russell with Fate of the Furious introducing Scott Eastwood, Charlize Theron and Helen Mirren.
Furia
Furia provides another potential collaboration for Vin Diesel and Nina Dobrev. Furia is an officially announced chapter of The Chronicles of Riddick franchise which sees Vin Diesel's Riddick continuing his search to find his home planet of Furia, although he has no idea what is in store for him when he arrives there. The fact that Furia is a planet which has never featured in The Chronicles of Riddick films before forms an opportunity to showcase an entirely new supporting cast around Riddick between his allies and opposition.
Julie Plec Television Project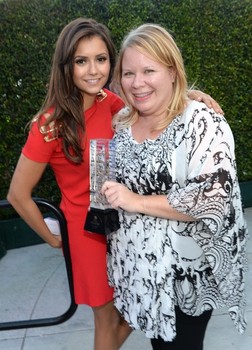 Nina has stated many times that she sees Julie Plec as a mentor who presented her with the next major platform in her career by providing the opportunity of becoming a leading cast member in a major television series, therefore Nina and Julie are clearly good friends and enjoy working with each other. Julie Plec is a great story teller and likes to keep busy between multiple simultaneous projects, while utilising a lot of the talent that she works with in multiple projects. There are many examples of this; most notably including Joseph Morgan, Daniel Gillies, Phoebe Tonkin, Claire Holt, Nathaniel Buzolic and Sebastian Roche making the move from The Vampire Diaries to their own spin-off in The Originals. More wider ranging examples between different stories and series includes Claudia Black who performed the character of Dahlia in The Originals: Season 2 before having a major role in Containment as Sabine Lommers, while Chris Wood played the role of Kai Parker in The Vampire Diaries: Season 6 before joining Containment as Jake who shared many scenes with Kristen Gutoskie as another lead character named Katie Frank in Containment before joining The Vampire Diaries: Season 8 for nine episodes, alongside Christina Moses who played yet another lead character named Jana in Containment before joining The Originals: Season 4. I would speculate the chances of Nina and Julie collaborating on another television project at some point as a guest star or a recurring character in between Nina's films or potentially as a lead character is highly probable.
The Originals


Nina could potentially appear in The Originals as any of the doppelgangers that we have seen before in The Vampire Diaries or possibly even as another doppelganger that we previously knew nothing about such as when Nina previously guest starred as Tatia in an episode of The Originals: Season 2 titled Red Door; it would also be another opportunity for Nina to continue to work with Julie Plec.
True Detective: Season 3
There have been significant rumours since August 2015 that Nina was actively pursuing a major role on the third season of True Detective, although the HBO series was put on hold. True Detective star Matthew McConaughey has stated that the third season may happen sooner rather than later. If True Detective: Season 3 was to be greenlit soon, then it could potentially be Nina's next television series.
Uncharted Film Adaptation


A film adaptation of the popular Uncharted videogame series has finally received a script that looks set to receive the green light. The script features "Four of the biggest, craziest action sequences" and will be R-rated according to its writer Joe Carnahan. Given that Nina was widely reported to be in the top 5 contenders for the Lara Croft role only to narrowly miss out on what would have been perfect casting for the lead role; there are at least two major recurring roles that Nina could play in Uncharted films. Nina's involvement seems all the more likely when considering that Flatliners and Uncharted are both being distributed by Sony Pictures. Nina could play the lead female role of Elena Fisher with Tom Holland (Spider-Man) set to be cast in the lead role as Nathan Drake with potential alternatives including Brett Dalton (Agents of S.H.I.E.L.D.'s Grant Ward) or Nathan Fillion (Firefly and Serenity's Captain Malcolm Reynolds and Castle's Richard Castle) with Elena Fisher and Nathan Drake forming the romantic relationship of the entire series. However, if Emily Rose who performed as Elena Fisher in Uncharted: Drake's Fortune, Uncharted 2: Among Thieves, Uncharted 3: Drake's Deception and Uncharted 4: A Thief's End reprised her role, then Nina could alternatively play the role of Chloe Frazer. Although Chloe is not the lead female character; she still has a tremendous amount of importance in the Uncharted franchise as she was introduced in Uncharted 2: Among Thieves and returned in Uncharted 3: Drake's Deception with her character announced at E3 2016 as the lead character in the videogame Uncharted: The Lost Legacy. As an alternative to both characters Nina could perform as an all-new antagonist who had her heart broken by Nathan Drake in the past and will do anything to rival him in finding the treasure they have both taken a genuine interest in; which would also serve the purpose of producing a new storyline instead of re-treading that of the videogames.
The Last of Us Film Adaptation


Another partnership between Nina and Naughty Dog that would make a lot of sense would be the film adaptation of The Last of Us; a videogame that is highly regarded having earned over 200 Game of the Year Awards. Nina has showed on many occasions in The Vampire Diaries that she is capable of delivering a dramatic performance which can switch to action when called for, so a leading female role as Ellie in the post-apocalyptic horror of The Last of Us would be well received by fans of the videogame franchise.
The Expendables 4 leading into The Expendabelles
As Nina has talked a lot about wanting to perform action roles in action films; a role as a hero within Sylvester Stallone's team or a villain in The Expendables 4 would make a lot of sense with her character crossing over by either being a major part of the female action team or being the antagonist that causes the requirement of a female action team in the form of The Expendabelles.
Marvel or DC Universe Characters
There is a vast stable of female superheroes and supervillains that are yet to be cast within the Marvel or DC Universe. Nina has repeatedly been rumoured to be playing Catwoman in David Ayer's Suicide Squad sequel titled Gotham City Sirens which purposefully shines a spotlight on DC Comics' female supervillains. Nina is actually reportedly quoted from December 2016 as saying, "I can't wait to be a 'Catwoman'. I feel like superhero movies used to be a bit more action-y. There wasn't much depth to them, but people want to see smart movies with smart characters that have a soul…It's making me enjoy the movies more." Nina has also stated that when she bought her Tesla electric car, she made sure that it was black due to her love of the Batman films which made her "Dream of having my own Batmobile". There is some context to the rumour of Nina playing Catwoman in Gotham City Sirens as it is based upon a comic book series written by Paul Dini and illustrated by Guillem March from June 2009 in which the three lead characters are Harley Quinn (reprised by Margot Robbie), Catwoman and Poison Ivy. If Nina was not cast as Catwoman in Gotham City Sirens, then there are numerous good and villainous female characters introduced in every season of Marvel's Agents of S.H.I.E.L.D. and DC's Gotham; therefore increasing the chances of Nina being a superhero or supervillain in the Marvel or DC Universe.
Terminator Genisys: Parts 2 and 3 or Terminator 6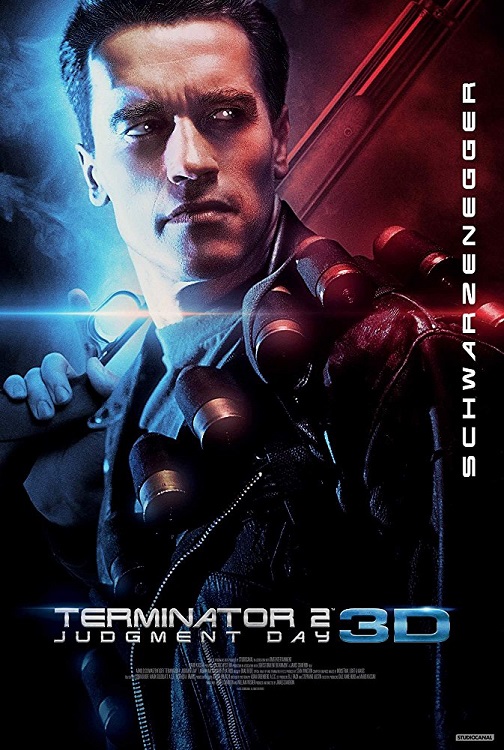 Terminator Genisys made $440 million at the worldwide box office resulting in it not being the flop that some thought it to be. However, Emilia Clarke has categorically stated that she will not be reprising her role as Sarah Connor in Parts 2 and 3 of the trilogy, while Arnold Schwarzenegger is adamant that the franchise will continue sooner rather than later. Terminator 6 will apparently happen with James Cameron on board in some capacity with Deadpool director Tim Miller set to direct in 2019 when the Terminator rights revert back to original creator and director James Cameron. I believe Nina would be a perfect choice for Sarah Connor as she would be capable of delivering a believable scared Sarah Connor running for her life and a heroic Sarah Connor reminiscent of Linda Hamilton's performances in Terminator 1 and 2 respectively in a possible new direction in which the continuation of the franchise could split between multiple timelines. Alternatively, a return to a female villain in either film would certainly be another avenue for Nina to be part of the Terminator franchise.
Avatar sequels


James Cameron really likes to embrace strong female characters such as Linda Hamilton's Sarah Connor in the Terminator franchise, Jamie Lee Curtis' Helen Tasker in True Lies as well as Zoe Saldana's Neytiri and Michelle Rodriguez's Trudy Chacon in Avatar. James Cameron is set to produce, write and direct four Avatar sequels in which it is guaranteed that more strong female characters will be created throughout the journey and with Nina having displayed her ability to perform as such a character; that could put Nina in the running for a big role in at least one of the Avatar sequels.
True Lies sequel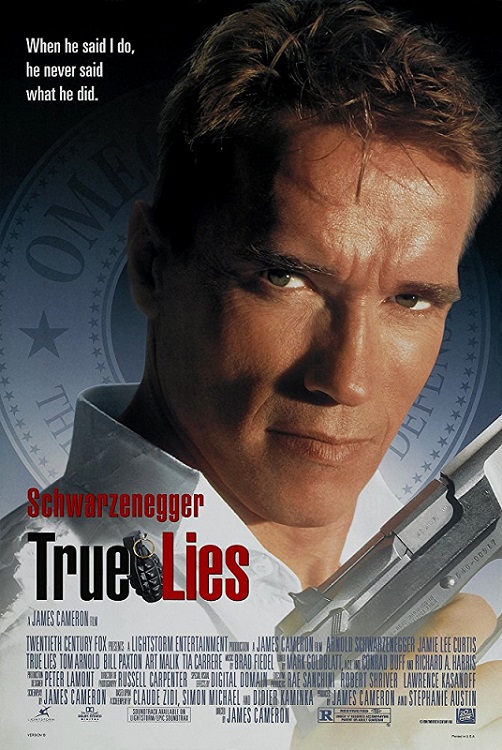 Tom Arnold regularly discusses the possibility of a True Lies sequel with Jamie Lee Curtis warming to the idea by suggesting that she and Arnold Schwarzenegger have a role behind the desk with their daughter Dana Tasker from the first film played by Eliza Dushku being the lead role with her being captured and they have to slip back into their more action oriented roles to get their daughter back. Nina has showcased her ability to perform as a believable villain as Katerina Petrova in The Vampire Diaries and I could see her being perfect as a lead female villain in True Lies 2 in the way that Tia Carrere performed as Juno Skinner in the first film. My idea would be that Nina plays the daughter of Juno Skinner who seeks revenge for her mother's imprisonment by capturing Harry and Helen Tasker's daughter to lure them back into action; attempting to destroy their family in the process. It is also important to note that Nina is clearly a fan of the film as she once impersonated part of Arnold Schwarzenegger's dialogue from the film when she screamed "The bridge is out!" when discussing stunts with Matt Davis during a Mystic Diaries behind the scenes video segment promoting the Season 2 episode The Last Dance of The Vampire Diaries.
Mission: Impossible sequel
Every Mission: Impossible film introduces a new female character onto Ethan Hunt's team including Emmanuelle Beart in Mission: Impossible, Thandie Newton in the second film, Maggie Q in the third film, Paula Patton in Mission: Impossible – Ghost Protocol, Rebecca Ferguson in Mission: Impossible – Rogue Nation and Angela Bassett and Vanessa Kirby in Mission: Impossible 6; therefore there is a possibility of Nina playing a major role in a future Mission: Impossible sequel in the action adventure franchise alongside Tom Cruise.
Joss Whedon project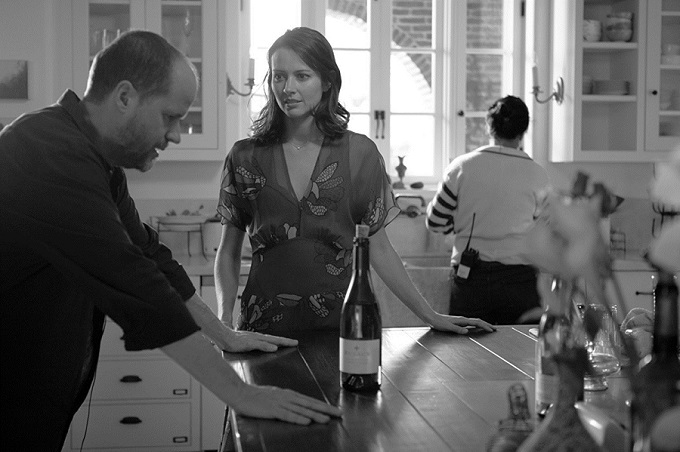 In the same vein of James Cameron; Joss Whedon has consistently written iconic female characters such as Buffy Summers portrayed by Sarah Michelle Gellar in Buffy the Vampire Slayer and further strong female characters such as Winifred Burke performed by Amy Acker, Cordelia Chase portrayed by Charishma Carpenter in Buffy the Vampire Slayer and especially the evolution of her character in Angel, Summer Glau's River Tam and Gina Torres' Zoë Washburne in Firefly and Serenity, Echo played by Eliza Dushku in Dollhouse and more besides. Therefore, a new sci-fi or superhero TV series or film franchise would be quite a realistic prospect.
Call of Duty Videogame and Film Series


Nina's first attachment to Call of Duty was attending the Call of Duty XP event with Vin Diesel in a cross-promotion between Call of Duty and The Return of Xander Cage which took place on September 3rd 2016. Call of Duty videogames are not new to featuring strong female characters in major roles such as Jamie Gray Hyder's Lieutenant Nora Salter in 2016's Infinite Warfare and Angela Gots' Ilona in 2014's Advanced Warfare; therefore Nina could appear in a future Call of Duty videogame. However, Activision has confirmed a film series is set to launch production soon for a 2018 or 2019 debut release in what is expected to be a film franchise that will run just as long and successfully as the videogame series, so perhaps Nina could appear as a major character in Call of Duty videogames and films.
Videogames


If Nina does not appear as a female action hero in Call of Duty, Battlefield or Destiny style Hollywood blockbuster videogame productions, then a story driven game would still be just as much of a huge prospect. Telltale Games and Don't Nod Entertainment currently lead the way in story driven episodic gaming with Telltale Games having such intellectual property as Batman, Game of Thrones, The Walking Dead, The Wolf Among Us and various unannounced projects, while Don't Nod Entertainment had a surprise smash hit with the time manipulation adventure thriller Life is Strange; therefore both developers are huge prospects for anyone in acting who wants to progress into the videogame industry. Another developer ascending in dramatic, story driven videogames is Supermassive Games; responsible for creating one of the most atmospheric and terrifying games of all-time. Until Dawn stars Hayden Panettiere (Heroes and Nashville), Brett Dalton (Agents of S.H.I.E.L.D.), Rami Malek (Mr. Robot, Need for Speed and Bohemian Rhapsody) and Peter Stormare (Destiny, The Last Stand and John Wick: Chapter 2) amongst a strong ensemble cast of believable characters. Supermassive Games continues to develop story driven games as they have followed up on Until Dawn with The Inpatient and Hidden Agenda. Another great developer producing incredible story driven games is Quantic Dream; developer of Omikron: The Nomad Soul, Fahrenheit, Heavy Rain, Beyond: Two Souls and Detroit: Become Human who utilise state of the art technology to create visually lifelike experiences combined with David Cage's gripping stories. A further possibility would be Warner Brothers' LEGO games as they always have a huge ensemble cast with genuine humour in the dialogue for pretty much every character which would make it a perfect staple for Nina to join the fantastic cast; having already shown her comedic timing in such films as Let's Be Cops and The Return of Xander Cage. It would also be excellent to see a new videogame based upon The Vampire Diaries with full voice-over and motion capture performances from the entire cast including Nina as multiple doppelgangers set throughout the history of vampires and the Petrova bloodline in a third-person action adventure on home consoles. There are also a lot of creative indie developers out there that I am sure would be extremely enthusiastic to have Nina on board to star and help promote their respective videogames.
Voice-overs
https://www.youtube.com/watch?v=sU1MFg_qnEs
While we all want to see Nina on the big screen in movies, many popular actors and actresses spend some of their spare time in between films and television; voicing characters in animated cartoons for TV and films. Nina has shown her ability to voice characters by providing guest starring voice-over roles as Cupid in Merry Madagascar in 2009, Lois' high school bully in an episode of Family Guy in 2011 titled Trading Places; an episode of The Super Hero Squad titled This Man-Thing, This Monster! Six Against Infinity: Part 3 that was also from 2011 as a character named Ellen; and a 2014 episode of Seth Green's Robot Chicken titled Panthropologie in which Nina voiced three characters. Outside of videogames, a large amount of voice-over roles are for Disney Pixar animated films such as Cars, Toy Story, The Incredibles, Monsters and Up, while animated cartoons made for TV or digital platforms that involve superheroes including Nathan Fillion voicing Green Lantern and Hal Jordan in multiple Justice League animated films as well as Mr. Freeze. Nolan North has voiced many characters in cartoons revolving around Batman, Guardians of the Galaxy, Hulk, Justice League, Teenage Mutant Ninja Turtles, Wolverine and the X-Men and more besides. In addition to Nina hopefully landing major roles in Disney Pixar animated films and superhero cartoons; a return to Robot Chicken and a guest starring role on The Simpsons, perhaps in a Treehouse of Horrors episode with subject matter relating to vampires would be great to hear.
Books to Film Franchise Adaptations
Film adaptations of books is nothing new, especially when considering such classics as Blade Runner and Total Recall that were based on Philip K. Dick's novels Do Androids Dream of Electric Sheep and We Can Remember it for You Wholesale respectively, but in recent years; the notion of adapting not just a single book, but an entire series of books has reached fever pitch. Most probably inspired by the success of every Harry Potter film; numerous films based upon the stories of such novels as The Hunger Games, Divergent and The Maze Runner were usually filmed back-to-back and released year on year to global popularity in cinemas. Therefore, Nina should look to be a leading female character in any major in-development yet uncast film adaptations of successful books; as that may just be the next huge film franchise.
James Bond girl


Nina revealed in the September 2012 issue of Ocean Drive Magazine that her dream role is to be a James Bond girl. Bond 25 which is set to release in 2019; does not have a complete cast announcement as of yet, but even if Nina was not to star in Bond 25, there are still many more James Bond films beyond that which Nina could star in.
Baywatch sequel
Nina was said to be a top 5 contender for a major role in Baywatch. The Rock's films usually have a sequel confirmed, so it would not be out of the question to see Nina as an ally or villain to The Rock's team.
Tomb Raider role


Nina was also a strong contender for the role of Lara Croft, reportedly missing out only very narrowly; which was rather surprising as a composite picture of Nina and Lara Croft in videogame form showed a clear likeness and many fans of the character and Tomb Raider games were showing their support on social media both before and after Nina confirmed her ambition to play the character during a Conan interview. Therefore, it is not impossible that Nina could be seen in a future Tomb Raider sequel such as if Alicia Vikander was to commit to a different film in a clash of scheduling or Nina could be introduced as a female rival that is attempting to find the same treasure as Lara Croft.
The Running Man sequel or remake
Non-stop action film The Running Man starring Arnold Schwarzenegger was released in 1987, but told a story of a violent future in 2017; therefore persistent rumours of a sequel or remake could not have more foundation or basis to them than right now. If it is a remake, then Nina could play a similar role to Maria Conchita Alonso's role as Amber Mendez. Amber is initially scared by an innocent fugitive named Ben Richards before having to team-up with him against her will when her curiosity gets the better of her as she attempts to find evidence if Ben Richards is really as innocent as he proclaims to be and is punished by having to run the gauntlet in a brutal TV game show. However, it is possible that if a sequel was opted for instead of a remake that Nina could play the role of Ben Richards' and Amber Mendez's daughter who contributes to her parents' cause.
Duke Nukem Film Adaptation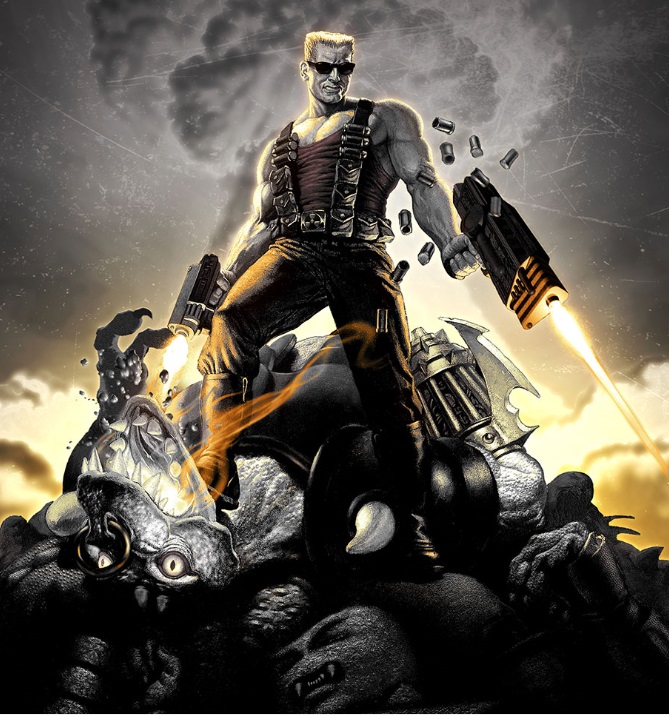 In June 2017, Randy Pitchford of Gearbox Software stated that a Duke Nukem film is very close to entering production; which has been rumoured for a long time to be starring The Rock as the lead character. It would be appropriate for the storyline to centre on or at least follow a core concept of Duke Nukem: Land of the Babes from the third PlayStation 1 game to empower the women in the film by having them assist Duke Nukem in battling against the hostile alien invasion. As Nina has been vocal about starring in action films; this may be a certain vehicle for her to star as an action oriented character in a big budget action film that may evolve into its own film franchise.
Empire television series
Around the same time Nina was said to be quite interested in joining True Detective: Season 3; there was also a persistent rumour about joining the TV series Empire. Empire stars Taraji P. Henson (Person of Interest) and Terrence Howard (Iron Man and Sabotage) and shows no sign of cancellation, so if that possibility was to be revisited, then perhaps Nina could play a recurring character such as a music artist.
Music Videos


Actors and actresses are no strangers to starring in music videos for music artists who they admire. After all, Nina does have experience of starring in music videos via The American Mall and SPF, but she has never starred in a music artist's music video. Given that Nina helped Chord Overstreet get his song Hold On onto The Vampire Diaries finale; that would be a great place to start starring in music videos for her favourite artists.
Modelling and Fashion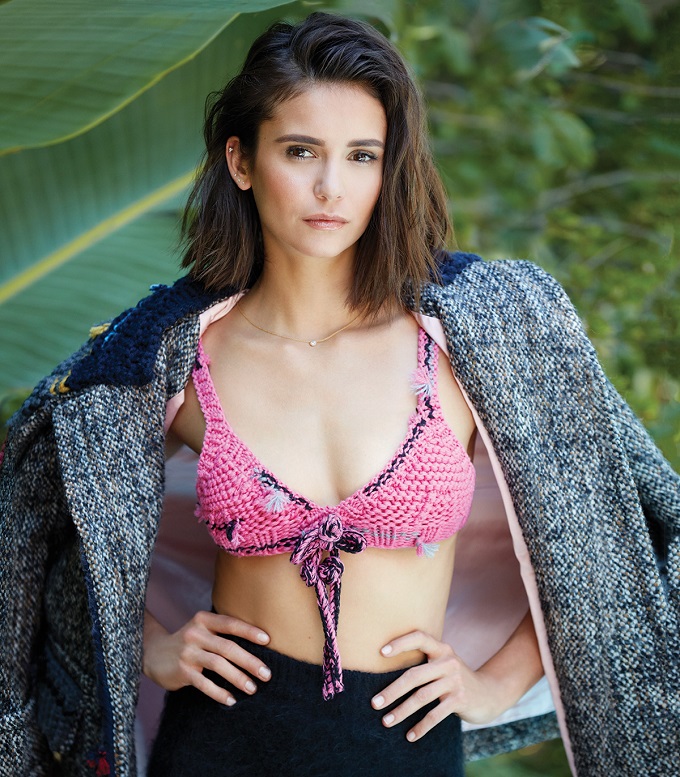 Nina was officially announced as a Reebok Women and Les Mills apparel model from May 2017 onwards; therefore print and TV advertisements should follow. Nina is attending more modelling and fashion events than ever before such as an event that took place in September 2017 in which Ralph Lauren combined celebrities with classic cars that Nina described as "Felt like we were in a James Bond movie". Nina previously stated her desire to be a L'Oreal or Pantene girl to model healthy hair before going onto advertising LUX shampoo in Japan in August 2013; providing the possibility that Nina could still model other hair care products on a more global scale, while the same can be said for cosmetics, jewellery and different types of clothes outside of exercise related apparel that Reebok Women and Les Mills specialise in.
TV Advertisements


Well known actors and actresses are doing more TV advertisements now than ever, especially for big brand cars and entertainment products. Nina has recently bought a new Tesla electric car, so perhaps there could be a partnership there. One of the huge ad campaigns of the entire year that can always produce some surprises is the Superbowl were The Rock, Arnold Schwarzenegger and many more have featured in popular ad campaigns that were not related to their movies.
An adventure and stunts television series
https://www.instagram.com/p/BAQN53Rn3Vg/
Nina has shared videos on her social media channels of some crazy stunts that she has done purely for fun such as a backwards reverse bungee jump and parachuting; therefore a television series incorporating adventure and stunts presented and starring Nina would be a perfect combination. Perhaps as a further element to the series would see Nina challenge a guest in each episode with Nina and her guest competing to perform better than each other by finishing a challenge quicker or being more accurate with their landing and so on.
Saturday Night Live
Nina has progressively grown from dramatic acting and expanded her range into comedy such as starring in comedy film Let's Be Cops in 2014 alongside Damon Wayans Jr. and Jake Johnson, horror comedy film The Final Girls in 2015, a comedic role in The Return of Xander Cage alongside Vin Diesel in 2017 and an episode of Workaholics in 2017 titled Termidate. Add this to Nina's constant pranking of her surrounding cast and crew, then Nina would certainly be perfect as a Saturday Night Live host.
Dancing with the Stars
https://www.instagram.com/p/BOAbGLhgxzm/?taken-by=nina&hl=en
Nina posted a video on December 14th 2016 to her Instagram profile of her performing an elaborate dance routine which has since been watched over 2.7 million times! It is also important to notice that Julz Tocker has previously featured on Dancing with the Stars, while one of Nina's close friends Julianne Hough is most likely providing encouragement as she has danced and judged on the show too, so there is a possibility that Nina could be preparing to join the show as a dancer. Outside of this video; Nina has also showcased her dancing and choreography abilities in the American Mall particularly during a song called Survivor in which Nina performs dance choreography within a song that reflects upon her character's current scenario and Jimmy Fallon's Born to Run opening to the 2010 Primetime Emmy Awards.