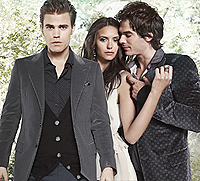 What's a girl to do after she discovers she looks exactly like her vampire lover's squeeze from 145 years ago? How about run off with her boyfriend's dangerous, equally undead brother? When the CW hit returns, Elena (Nina Dobrev) travels with Damon (Ian Somerhalder) to get info on how to release his true love, Katherine, from her tomb. Elena and Damon's surprising new bond, the intensifying existential angst of her beau, Stefan (Paul Wesley), and several mysterious new characters spice up the supernatural romance as it hurtles toward Season 1's explosive finale. "We're leading up to the town's Founder's Day celebration, where all hell breaks loose," says exec producer Kevin Williamson. TV GUIDE MAGAZINE sat down with Vampire Diaries' hot trio in Atlanta, where the pals teased each other mercilessly and shared their experiences on the fangtastic series.
So which of you would make the best vampire in real life?
Somerhalder: Definitely me.
Dobrev: I agree.
Wesley: Ian does have hypnotic eyes. But Nina, I thought you were convinced I'm really a vampire?
Dobrev: Ian has this vampire quality, but Paul has fangs. [Wesley shows off his pointy canines.] And he just appears places and he's very brooding.
Actors always love to play baddies. Are either of you a little jealous Ian gets to play the devilish Damon?
Dobrev: I'm lucky because I get to play two characters: sweet Elena and Katherine, who's a crazy bitch.
Wesley: What's cool about our characters is that they're not one-dimensional. Damon has some good in him and Stefan has some evil in him. [Read The Rest at the Source ]