Welcome to Nina Dobrev Network Your Newest Source Dedicated to Nina Dobrev. Though there are plenty of Fan Sites out there for Nina I thought I'd have a lot to offer as well. I will be working very hard to bring you all the latest on Nina, and try to give you something new all the time for your enjoyment as well.
Browse around the site because it is fully loaded with a lot of content, I thought it would be nice to give fans more so I hope I have done that.
Today is not only the Opening of Nina Dobrev Network , The Vampire Diaries also returns tonight finally after a long Hiatus so be sure to Tune in.
Special Thanks to Amanda and Mikaela for the stunning layouts on the site and the gallery!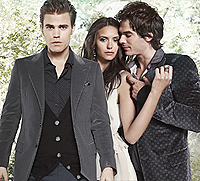 What's a girl to do after she discovers she looks exactly like her vampire lover's squeeze from 145 years ago? How about run off with her boyfriend's dangerous, equally undead brother? When the CW hit returns, Elena (Nina Dobrev) travels with Damon (Ian Somerhalder) to get info on how to release his true love, Katherine, from her tomb. Elena and Damon's surprising new bond, the intensifying existential angst of her beau, Stefan (Paul Wesley), and several mysterious new characters spice up the supernatural romance as it hurtles toward Season 1's explosive finale. "We're leading up to the town's Founder's Day celebration, where all hell breaks loose," says exec producer Kevin Williamson. TV GUIDE MAGAZINE sat down with Vampire Diaries' hot trio in Atlanta, where the pals teased each other mercilessly and shared their experiences on the fangtastic series.
So which of you would make the best vampire in real life?
Somerhalder: Definitely me.
Dobrev: I agree.
Wesley: Ian does have hypnotic eyes. But Nina, I thought you were convinced I'm really a vampire?
Dobrev: Ian has this vampire quality, but Paul has fangs. [Wesley shows off his pointy canines.] And he just appears places and he's very brooding.
Actors always love to play baddies. Are either of you a little jealous Ian gets to play the devilish Damon?
Dobrev: I'm lucky because I get to play two characters: sweet Elena and Katherine, who's a crazy bitch.
Wesley: What's cool about our characters is that they're not one-dimensional. Damon has some good in him and Stefan has some evil in him. [Read The Rest at the Source ]
LOVE SUCKS

Up all night with the cast of Vampire Diaries.

Those well acquainted with Serena and Little J may find this fact hard to believe: Vampire Diaries, The CW's budding show about bloodsuckers and the teen girls who love and / or get eaten by them, has double the number of Gossip Girl viewers.

What makes it such a hit? It could be the current cultural zeitgeist of Edward, Bella, Sookie, Bill, and immortal drama. It could be the lingering teen appeal of star Nina Dobrev (remember her from Degrassi?). Or maybe it's just damn fun and funny.

Luke Crisell – who calls the show "like Dawson's Creek with less talk and more action" – sat down with the cast of and asked them himself.

On the similarities between Twilight, True Blood, and Vampire Diaries: "When the show first started… you automatically thought Twilight. But once you continue, there's a whole other side of it that goes a lot deeper… It's about letting everyone know that we're different but we all respect each other." –Nina Dobrev

On the sudden success of the show: ""Do I thing the show would be successful as it is, if it weren't for all that? No." –Paul Wesley

Hey Ian, is there any similarity between LOST and Vampire Diaries? "[My character] is gonna be the coolest character on television. There was no doubt about it. It reminded me of Sawyer, Josh Holloway's character on LOST. He was always the character I secretly wished I could play."

GET THE FULL ISSUE ON NEWSSTANDS OR SUBSCRIBE TO NYLONMAG.COM