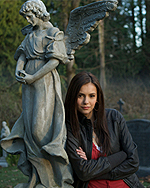 Nina as Elena Gilbert
Original Air Date : September 10th, 2009
Writers : Julie Plec & Kevin Williamson
Director : Marcos Siega
Viewers : 5.7 million
NDN Gives this Episode 5 out of 5 stars!
Episode Summary
Four months after a tragic car accident killed their parents, 17-year-old Elena Gilbert  and her 15-year-old brother, Jeremy, are still adjusting to their new reality. Elena finds comfort with her best friend Bonnie , frenemy Caroline, and former boyfriend Matt , but Jeremy is trying to figure out why Matt's sister, Vicki, is suddenly rejecting him and hanging out with his rival, Tyler . As the school year begins, Elena and her friends are fascinated by a handsome and mysterious new student, Stefan Salvatore . Stefan and Elena are immediately drawn to one another, but Elena doesn't realize that Stefan is hiding a dark, deadly secret – the fact that he's a vampire. At a nighttime bonfire party, Elena and Stefan are getting to know each other when chaos erupts after Vicki is attacked and left bleeding from a savage bite to the neck. Fearing that he knows who is responsible for the attack, Stefan finds that his older brother, Damon Salvatore , has returned to town. Now these two vampire brothers – one good, one evil – are at war for Elena's soul and for the souls of her friends, family and all the residents of Mystic Falls, Virginia. Courtesy  of  The CW
Quotes
"Dear Diary , Today will be different it has to be, I will smile and it will be believable"
"I will no longer be the sad little girl that lost her parents"
"All About the Coffee Aunt Jenna"
"Great, first day of school and your stoned"
"Chill myself , what is that stoner talk"
"I am going to be there everytime to ruin your buzz you got it."
"It's the fog , it's making me foggy"
"I'm Elena"
"I know, we have history together"
"Nice Ring"
"There are rings and then there's that"
"You keep a journal"
"Ok, so he's a little Pretty"
"Matt's that friend from childhood that you start dating because you owe it to yourselves to see if there can be more"
"No, it wasn't passionate"
"People are gonna stop giving you breaks Jer, they just don't care anymore"
"The rest of the world has moved on"
"All You Can do is be ready for the good so when it comes you invite it in because you need it, I need it."
"Ask me tomorrow"
"Would you like to come in"
Photos
Rate this Episode

Loading ...
Watch Videos from this Episode