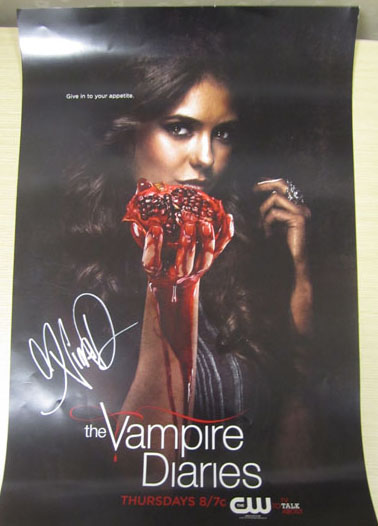 Are you ready for 3 weeks of Twitter Giveaways, Courtesy of The CW Network? I know I am! We kick of Week 1 of the contest with Episode 3.07 Ghost World airing Tomorrow Night on The CW … spooky times ahead.
The Rules:
– The Contest is opened to International Fans so everyone can sink their teeth into this.
– You MUST be following @nina_network in order to qualify for the contest so I can DM you if you win.
– In 140 Characters or Less write why people should tune into The Vampire Diaries this Season. (MUST not go over 140 characters, here lies your challenge to make your tweet something totally awesome convincing people to Watch Vampire Diaries THIS Season.) You also don't need to include @nina_network in your tweet, you can leave it out, I'll be checking the hashtag for entries.
– The Official Hashtag for this contest is #WatchVampireDiaries which MUST be included in your Tweet and also it's part of the 140 Characters so the challenge continues, how scary is that!
– How many times can you enter? As MUCH as you want there is no limit.
Contest Start Time: Now
Contest End Time: 12am CST October 28th
I will pick the Winner and Announce Friday October 28th sometime.
Another stunning still has been released for Miss Mystic Falls and this still is wow, I just can't get over how amazing the dress is and the color of it, it looks gorgeous on Nina, don't you all agree?
We are all gushing on Twitter about it which brings up another subject you are all Following @ninadobrev right? Well let's help her get verified Twitter hasn't done so yet and its been long enough!  So use this hashtag and be sure to tweet @caroline to verify @ninadobrev #verifyNinaDobrev