Posted by andrea in Sep 03,2013 with 6 Comments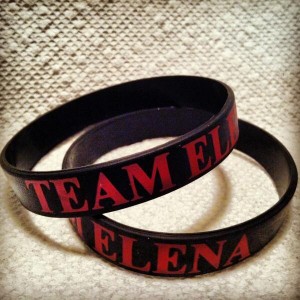 You can now purchase the ALL New Team Elena Wristbands
The first shipment will be sent out Friday Afternoon. Team Katherine Wristbands will be ordered once we sell half of the Team Elena wristbands, we need to raise the money towards those
thanks so much. Profit from the Team Elena Sales will be going towards the Website upkeep which is $100 a month along with the new Team Katherine Wristbands!

SHIPPING is ALREADY Included


This entry was posted on Tuesday, September 3rd, 2013 at 10:12 pm and is filed under Vampire Diaries. You can follow any responses to this entry through the RSS 2.0 feed. You can leave a response, or trackback from your own site.