Posted by andrea in Sep 22,2011 with No Comments
TV.com has a New Interview up with Nina thanks to vampire-diaries.net for the heads up, check out some of it below and the rest at the source.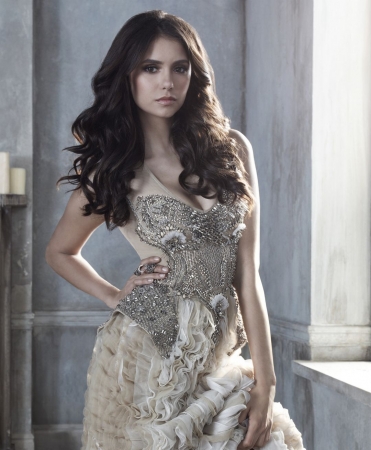 A lot of horrible stuff has happened to Elena in a very short amount of time. How do you keep track of what her emotional state is supposed to be on any given day? Like do you have a flowchart or something?
Kind of, yeah. I keep a separate script for each of my characters. So Elena has her own script and Katherine has her own script. And I go through every script— A lot of preparation and time goes into breaking it down and charting the emotional range and what's going on with each character, and then not only what's going on with them in this episode but over the last season. You know, one person could die in one episode and then another person could die in another episode and then you have to incorporate that and put it into effect.

The timeline is so confusing to me— It's never really clear how much time has gone by.

Well, we establish in—I think—the next episode that it's been about a year since the show started.

Incredible.

So, the last two seasons have been one year. So each season then is about six months. Continue Reading at TV.com 


This entry was posted on Thursday, September 22nd, 2011 at 8:49 am and is filed under Interviews. You can follow any responses to this entry through the RSS 2.0 feed. You can leave a response, or trackback from your own site.