Nina Dobrev has participated in a very interesting interview with Erik Davis of entertainment publication Fandango in which Nina has really shined a spotlight on some intriguing details regarding what we can expect from Flatliners in addition to new film stills that Nina features in pretty much all of them which is certainly a positive looking ahead to her amount of screen time.
Nina commented on her character's motivation,
"Marlo is an ambitious young woman who is an overachiever in some ways. She's a cellist, and a competitive swimmer. She's very, very smart and wants to be top of her class. So she's constantly trying to figure out ways to advance herself, and when she finds out about this opportunity to discover something new in the medical field, she jumps on that."
Nina revealed what it was like training with medical professionals and what it brings to the film,
"I thought it was really fun to work on this film. We went through three weeks of medical training with real medical technicians, and learned about defibrillators, and how to resuscitate people. What those steps are. It was really informative. I don't want to sound cocky and say that I could bring someone back to life in real life, but I could definitely now keep them alive long enough until the real professionals came to save the day."
Nina provided a comparison between the original Flatliners from 1990 to today's version,
"It's very much a reimagining. It kinda has the same idea, except now, so many years later, doctors and technology have advanced in a way that we're able to explore a lot of the things the characters are doing in the movie. It's a little more based in reality, in terms of the medical side. I'd call it a psychological thriller with a bit of a twist at the end."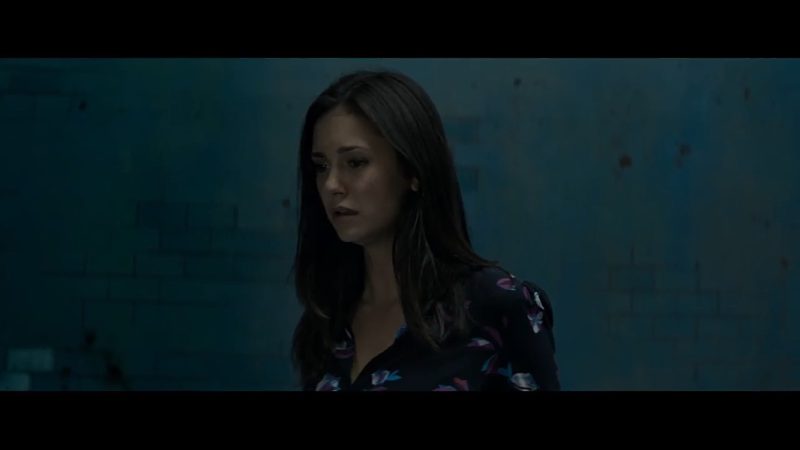 Nina gave some clarification to fans of the original film about Kiefer Sutherland's role,
"He plays a professor in the film, and we're all residents and medical students. So he's our mentor in many ways. I get to have a few scenes with him. He played a different role in the [1990 Flatliners]; he's not reprising that role here. It's a little bit different."
You can read Nina's entire interview including what she thought of the first trailer, her fellow cast members, what her hopes are for audience reaction and more besides, accompanied by more Flatliners film stills on Fandango.