This is the first of many Music Video Contest I plan to hold, it took me a bit to think of what kinda of theme I wanted done for the video but I figured it out! The Winner will receive an Autograph Photo by Paul, Nina and Ian, you can see the preview at the end of the blog, so be sure to enter, also anyone can participate in this, will ship anywhere.
Details of the Contest:
Start Date: October 6th, 2010
Song: Beauty and the Beast by Céline Dion & Peabo Bryson
Subject: As long as it has Elena or Katherine your good to go, you can choose Elena and Stefan, Elena and Damon, Katherine and Stefan , Katherine and Damon you have a choice out of those four to make your video , choose one pair and let me see what your made of!  If you want to mix it up and use more then one pair feel free to do so!
In the Beginning of the Video Please put Nina Dobrev Network Music Video Entry then your Title Beauty and the Beast and at the end of the Video please put Check out Nina Dobrev Network with the link http://nina-dobrev.us
Upload the Video to  Neenz The Vision and if you like Youtube as well is fine too.
Comment in this Post with a link to your Video!
End Date: November 6th, 2010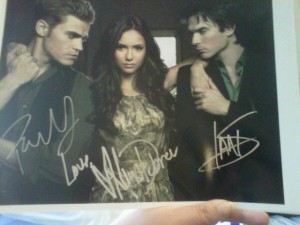 Winner gets Autograph and Video of the Week