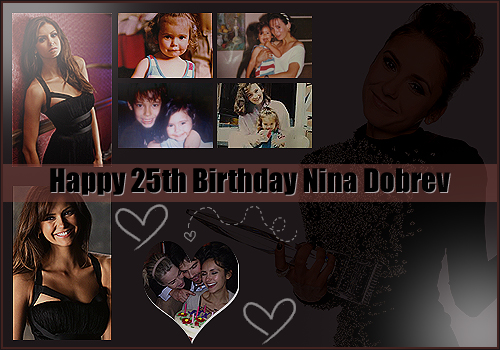 Happy 25th Birthday Nina, I hope today is full of love, joy and happiness. You are such an amazing person and actress, and here at NDN we simply adore you. Keep on being the best that you can be, we love you! – Andrea

Happy birthday to you Nina!! Hope you have the best 25th birthday and spend time with your family and friends that love you!!! – Monique

Hi Nina. Happy Birthday ! I hope you'll enjoy your day because you deserve it. You're so amazing and I love you so so much. Thank you for everything…I mean you're incredible.Your acting is amazing and I just don't know how you can play like that. 3 characters and you're still WOW! I won't be long because I know there will be a lot of messaged like this one but I wanted you to know that I'll always support you and thank you for inspiring me each and everyday. PS: Sorry for the bad english. :/ I love you. ♥ Cécily

Got a Birthday Message for Nina? Comment below I'll add it in!

This Year for Nina's birthday we will be donating towards her building a school. If you want to help her check out her page at Free The Children.
Thanks to the ever so lovely Bombonrosa for making this gorgeous video for NDN's 4th Anniversary and Nina's Birthday. I hope you all enjoy it, I simply love it.